Amanda Todd took her life the other day. Bullying was too much for her. She pleaded for help. None came.
Heart Breaking. Madding. Shameless. Gut-wrenching
.
What is the answer? Can we stop bullying? Can there be something good to come out of this horrible action? Should the people who bullied her be "outed". What happens then? They become the pariah of their community?
http://www.huffingtonpost.ca/2012/10/11/amanda-todd-teen-bullying-suicide-youtube_n_1959668.html?1349996156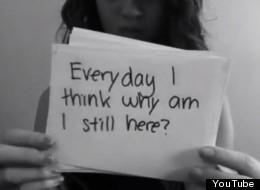 A Vancouver-area teen who used YouTube to share her heart-wrenching story of being bullied online and beaten at school has killed herself, unleashing a torrent of social media condolences and soul-searching.
Amanda Todd was found dead in Coquitlam on Wednesday night, less than a month before her 16th birthday.
News of her torment and death are being shared on social media through Tumblr, Facebook and Twitter, where #RIPAmanda is trending.
This is not going to stop anytime soon. There are unthinking people out there. As people we make mistakes. This young girl said she made one. Why was that a reason to torment her endlessly? Those tormentors also made a mistake. Will there be any redemption for them?
I am so disheartened by the whole thing. That poor young girl. Her parents, her friends.
You go online to the videos of her and some of the comments are just sickening. Bullying her again.
Yes there are some mean people in the world. Some are just stupid. Doesn't make it right.
What can be done? Should the bullies be made an example of? In the end really what can be done? You don't want to end bullying by bullying the bullies, right?
A sad day.
http://rightojibwe.blogspot.ca/2010/02/bully-and-legacy-they-have-to-live-with.html
http://rightojibwe.blogspot.ca/2012/03/redemption-is-it-possible.html
THE BEGINNING: On Sept. 7, 2012, 15-year-old Amanda Todd posted a video on YouTube documenting her battle with cyber-bullies, dating back to Grade 7. She said she wanted to help other young people.
LURED ONLINE: She was convinced by someone believed to be an online pedophile to flash him. The photo was later circulated to her relatives, friends and schoolmates.
FALLING INTO DEPRESSION: Amanda said the incident led to her being shunned at school, and left her feeling alone, depressed and suicidal.
ACTING OUT: In an attempt to deal with her feelings, Amanda said she turned to drugs and alcohol. She later started cutting herself. At the end of the video, she shows the scars on her arms.
CONFLICTS AT SCHOOL: Amanda switched schools, but the cyber-bully shared the images again. She was confronted by a group of teens at her new school and beaten up. She said she went home and drank bleach, while kids hounded her online.
FINAL ACT: On Wednesday, Oct. 10, Amanda took her own life. The RCMP said Friday it has launched an investigation into the circumstances that led to her death.