August 21, 2013 it was confirmed that my Dad has Cancer. He has it in his lungs, liver and a 15 centimeter growth in his bowel area, colon I believe.
Anyway, my Dad is 82 years old, born in 1930. Cancer is really an ugly animal. It has taken people in the family: My Mom, my Aunt's Lucy, Gwezeence (Carolyn), Uncle Herman-to, My Brother in laws, Chris Courchene, Brian Spence and Gord Spence.
So now is the ugly part.
Watching Dad get weaker and weaker while the pain increases. Dad hasn't been told he has cancer. Dad is suffering from Alzheimer's. He is pretty good though. He has laps in his short term memory but other than that he was good. It is stranger that now that we have the diagnosis of cancer it seems to be hitting him fast. The Doctors estimated about six months was his time and that it will be likely that his colon will be blocked. They can operate to unblock and he can have a bag to his stomach, but the Doctor said if it was his relative, he wouldn't go for the operation.
Its really weird watching the cancer work its ugly unrelenting greed. It makes think of my Mom and her battle and how she left. Dad knows there is something wrong. He hurts and his back aches, sometimes to the point of his jaw shaking. Last week his blood pressure dropped to below 70 and he passed out. Unresponsive for some time, the ambulance had to come take him to the hospital. He is not eating and mostly has sips of tea. I love tea as well, drink it all day long. The hospital brought his fluids up and gave him new pain medication. He was okay and I was able to take him back to the George M. Guimond Care Home. I told my Dad that he was sick. My Dad said "but I'm going to be alright"? I lied to him and said "yes that Dad you are going to be alright". So I could not tell him about cancer.
We are fortunate to have him this long. I encourage family and friends to visit well they can. I know Bert Fontaine was there yesterday and Dad remembered him. That's Dad's first Cousins those guys.
Perry is another one that is always going to see Dad. I think it is a shock for him to see Dad losing some much weight and so fast. It was not even three weeks ago that Perry had taken Dad to the Casino to pass the time.
Dad comes from a huge family, lots of cousins, kids, in-laws, nieces, nephews, grandchildren and friends. So it is good they get a chance to visit.
Okay folks, Will come by again.
Steve
Dad & Family
September - 17, Feeling overwhelmed today.
http://www.youtube.com/watch?v=QHoAg-LlVVM
October 21, 2103
Well Cancer has taken my Dad and killed him.
We watched him shrink away. I can tell you it is hard to watch your Dad die by the grip of cancer.
We had a nice service for Dad. His wishes (most of them) were followed. He was not one for big flash or have great things said about him. We did talk about him and how he was and not share his resume.
Its going to be weird not having Dad around.
Dad's Grandchildren
Uncle Bob at the Sacred Fire
Dad Bundled
Traveling song for Dad
Uncle Georgie Boy, Mary, Auntie Terraince, Uncle Bob.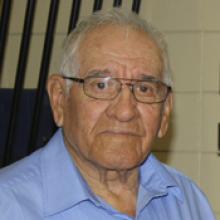 Date of Passing: October 21, 2013
ANDREW COURCHENE
ANDREW (HENRY) HOWARD COURCHENE (HENREESE) Waabanong Inini On October 21, 2013, with his family at his side, Henry passed away at the age of 82 years, after a battle with cancer. Henry lived all of his life in the community of Sagkeeng First Nation, MB, which he loved very much. He was a resident of the George M. Guimond Care Home in Sagkeeng. Henry was predeceased by his wife and moral compass Mildred; by his parents Mishom (Miskus) Ambroise, Kookum Sophie; his children Luke, Jean, Russell (Pancho) and his grandchildren Evan and Donovan; his siblings: five infant brothers (Sam, Luke, Philip), Felix, Alex, Mary (Waabas), Dora (Peechanish), Caroline (Gwayzaince), Herman (Herman2), John (John-neese), and Allan; and by his in-laws George Guimond, Willie Twoheart, JB Guimond, Sarah Courchene, Edgar Swampy, Molly and Joe Guimond, Lucy and Frank Daniels, Alex (Oskie) Laforte, Eva Courchene, Gerry Anaquod, Louis (Red) and Ida Fontaine, and Henry (Mannish) Fontaine. Henry leaves to mourn his children Leonard (Isabel), Carol Bouboire, Donald, Howard (Val), Steve (Susan), Jean (Maurice Normand), Sally, Brenda (Alvin "Smiley" Morrisseau), daughter-in-law Jeanie, Lorraine Kipling and Delores Kent; his siblings Theresa (Terraince) Swampy, George (Georgie-boy), and Robert (Uncle Bob), his in-laws Harold and Brenda Fontaine, Mary Courchene, Francis Anaquod, Margaret Courchene, Evelyn Laforte, Catherine Courchene, and Madeline Courchene; as well as his grandchildren, great-grandchildren and his great-great-grandson - Andrew (AJ) Courchene; numerous cousins, nephews, nieces and friends. Kitchi-Miigwich to all of the people of the George M. Guimond Care Home and to Sagkeeng. Your kindness, caring and warmth is overwhelming. To all his nephews, nieces and friends that were kind to Henry, Miigwich. Gin sa ga Bepkins, Boyshum, Bugzy, Randy, Perry, Chipper, and Linda. A Traditional Wake will take place at St. Alexander Church, Sagkeeng First Nation, MB, Wednesday, October 23, with the funeral service to follow on Thursday, October 24, at 2:00 p.m. Feast will be held at the Band Hall. Pallbearers will be Ian Courchene, Michael Buboire, Connie Spence, Daniel Courchene, Michael Courchene, Jessica Courchene, Laurie Morrisseau, Dylan Courchene-Gaucher, Zach Courchene, and Luke Courchene. In lieu of flowers, donations can be made in Henry's name to the George M. Guimond Personal Care Centre, P.O. Box 308, Pine Falls, MB R0E 1M0. Condolences may be sent to the family in care of Spirit Road Funeral Services Inc., P.O. Box 200, Fort Alexander, MB R0E 0P0, (204) 340-6490 or friends may leave a message of sympathy at spiritroadfs@shaw.ca.
As published in the Winnipeg Free Press on October 23, 2013